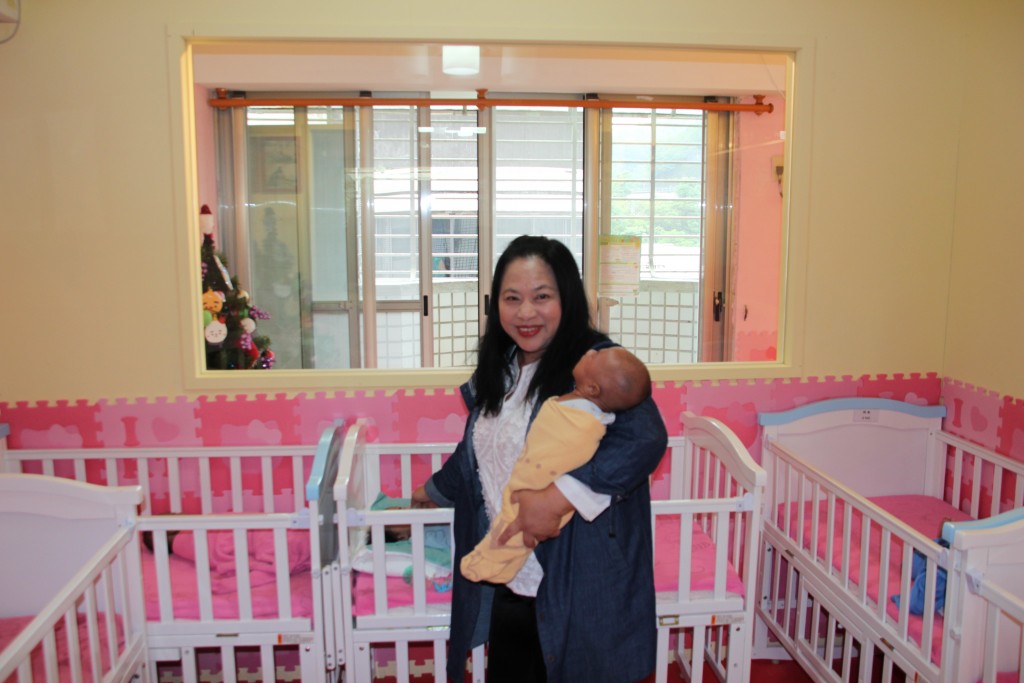 【新聞剪報】Spotlight on: Harmony Home Foundation, a sanctuary in Taiwan
Taiwan News spoke to Harmony Home director Nicole Yang, who has dedicated her life to caring for people living with HIV/AIDS
By Ryan Drillsma, Taiwan News, Staff Reporter
2018/12/22 09:21
TAIPEI (Taiwan News) — Harmony Home Foundation is a non-profit organization (NPO) unlike any other in Taiwan.
This is something not only acknowledged by director Nicole Yang, but also something understood by the government, which regularly entrusts Nicole and her organization with the care of people who have no other place to go.
Harmony Home has taken on a wide-range of responsibilities since its humble beginnings over 30 years ago. As well as looking after migrant women—both legal and illegal—who are pregnant, already have children, or may be awaiting court hearings or other official appointments but have nowhere to live, the organization acts as a halfway home for children whose parents are unable to look after them, and a care center for people living with HIV/AIDS (PLHA).
The NPO consists of six halfway houses across the island that each separately caters to the needs of its guests; whether it be access to medical assistance for PLHA, or social care services for migrant workers who have suffered trafficking or exploitation.
Nicole tells Taiwan News, "everybody is in a different situation," but evidently, she sees this not as a burden, but an opportunity to extend her benevolence to all the branches of society in need of love.
It can be said the foundations of Harmony Home were laid in 1986, when Nicole—recently-divorced and with two children—moved to Taipei to open a design studio. Two of her good friends were studying at National Taiwan Normal University (NTNU), but one had been discharged from army service shortly after a routine medical check-up:
"[He] went to do army service for one month—a short term, mandatory training program when you are in the third year of university. At that moment, he wasn't feeling well, and the army doctor asked if he had any past medical complications, to which he replied, 'I have AIDS.' Then, the newspaper reported his case. His name and school were published in the newspaper."
Nicole's friend in question was Tian Chi-yuan (田啟元), later to become a renowned theatre artist in Taiwan, but then known as the 50th recorded locally-contracted AIDS virus carrier.
Tian's life took a difficult turn after his condition was made public. A former classmate wrote to NTNU warning that students feared they would "catch" the disease if he returned, so the university did not allow him to continue his studies. On top of this, a new rule was instituted declaring that all freshmen must take a mandatory HIV test, and if found to be positive, must relinquish their place at the school.
Nobody, not a single close friend, was willing to take care of Tian, which drove him to attempt suicide. After this, Nicole knew she had to step up and take him in herself.
Nicole reiterated that 32 years ago, nobody really knew about HIV/AIDS. All they knew was that it was a serious, infectious disease—once caught, an imminent death sentence.
Witnessing the desolation her friend was left in inspired Nicole to start using money she earned from her small business to open up a shelter and begin providing care for PLHA. It was a small operation that continually expanded over the years, until 1997, when she was approached by two Catholic priests who had witnessed her altruism and needed her help.
Dramatic upheaval in Taiwan's industrial and occupational structures during the 80s and 90s led many Taiwanese businesses to begin hiring illegal migrants from abroad (at fractional wages) in order to shrink labor costs and remain competitive against industries in China and other Southeast Asian nations. The 90s saw a huge influx of illegally-hired migrant mothers, unable to support their families on their meagre earnings.
Understanding the situation, Nicole—at the request of the priests—began opening up her shelters to migrant women and children. Her work became prolific enough to attract the attention of the state, which began requesting her assistance with individuals that came through the Immigration Agency.
On top of this, in 2003, Nicole discovered a new stratum of society that could use her help. An AIDS crisis had been unfolding in certain rural parts of China, where citizens had flocked to illegal and unsanitary donation centers to sell their blood for quick cash. Up to 90% of donors in villages like Xiongqiao, Henan Province were coming away with the AIDS virus, and the state was doing nothing to combat the problem.
Nicole knew she had both the experience and willpower to go over and help out:
"I opened a halfway home [in Henan] for people who have HIV/AIDS. People needed to go to the big cities to see doctors, because in their villages in the countryside, there were no doctors who knew how to treat AIDS patients.
"They needed a place to stay, and food, but they had no money, so we provided a space for them for free. They could live there for a while, maybe for a month.
"Sometimes, if they got a CMV (cytomegalovirus) infection, they needed one month's worth of injections or medicine, which we tried to help the patients with. We also set up orphanages in the villages."
Her team's services in China expanded to include shelters and orphanages in Guangdong, Guangxi, Yunnan, Sichuan, and Fujian, which are still operating to this today—although Nicole clarifies that registering an NPO in China is very difficult, and all her work is done under the table.
She returned to Taiwan at the end of 2003 and registered Harmony Home as an association, at the advice of a friend, so she could start receiving donations. After numerous years of hard work and the kind support of charitable entrepreneurs, the organization officially achieved foundation status in 2011.
Taiwan News correspondent Ryan Drillsma recently visited a branch of Harmony Home in Wenshan District (文山區) to chat with Nicole.
The Wenshan shelter is a huge, three-storey complex, with each level dedicated to the care of a specific age group of children. It also houses multiple, separate dormitories for school-aged kids and the two university students Nicole takes care of.
The shelter is orderly and well-maintained. Nicole says one nurse is available for every four newborns, and one for every six children up to the age of one, but there is an apparent shortage of staff to attend to the slightly older children. The director expresses that they could use more volunteers to help out with things on the ground floor.
It is undoubtedly striking how many toddlers one is confronted by upon entering the building. Tens of happy faces look up, anticipating the greeting of a new friend, and "you can certainly tell they need love," as Nicole says herself.
Nicole states that there are around 120 children under four at the home. While some are there under temporary circumstances, and some belong to the migrant mothers who live and work there—employed by Nicole and thus granted residency by the government—many come from much direr situations, including abusive homes and families with injecting drug users.
Nicole was keen to tell the story of a particular family, one of whose children Harmony Home took care of for a period of time:
"It was in the news, about four days ago; a migrant child around seven months old died. The parents asked a nanny to take care of the baby, but at night, the baby could not sleep and kept crying. It made the nanny angry, so she picked him up and hit him against a wall.
"She then called the parents to say the baby was in a bad state. He was taken to hospital, and the situation was reported to Domestic Violence Prevention, but he passed away from internal bleeding in the head.
"The mother's first child, Coconut, was actually in Harmony Home. After his father returned to Thailand, she rarely showed up to see him, and eventually said she didn't want him because the father was gone.
"She then entered a new relationship with an Indonesian man, who initially wanted to take care of Coconut, and sometimes even took him home, but then sadly abandoned him again after they had a baby of their own.
"We had to give Coconut up to social services eventually because his mother didn't come to see him and refused to donate any money (Harmony Home requires a small donation of around NT$3,000 to look after a family's child). After another incident, police were called to the couple's apartment and found five babies that were each being cared for separately by illegally-hired nannies."
Nicole wanted to tell this story to highlight the necessity of the work Harmony Home does. Current services offered by the state do not appropriately deal with gray areas in domestic dilemmas that leave children, like Coconut and his brother, subject to abuse and neglect.
While it is regrettable that a family may no longer want to take responsibility for a child, it would be even more so if Harmony Home did not exist to save many from becoming one of the tens that die from neglect and abuse in Taiwan each year.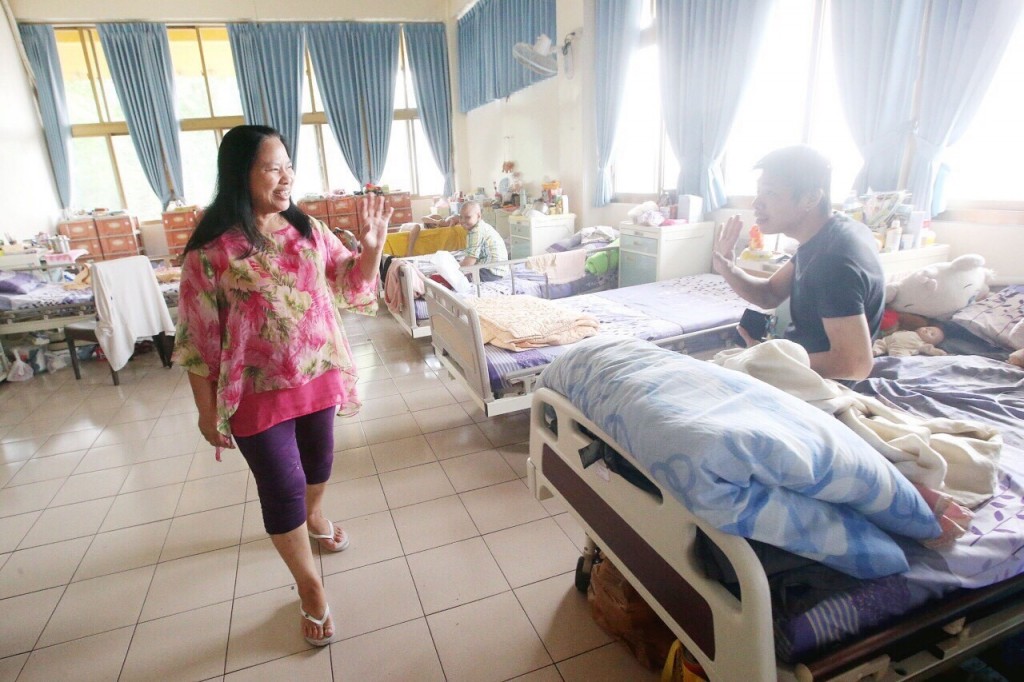 Not everyone is able to see the benevolent nature of what Harmony Home does, however, and the organization has faced multiple challenges from local communities in the past.
Members of the Wenshan community, where the shelter lies, took Harmony Home to court in 2006 after learning it housed a large number of PLHA. The community won the initial court battle, with judges declaring that the residents were entitled to "live without fear" of becoming infected, but they were defeated when the case went to the Supreme Court.
More recently, Nicole says the community challenged them again after hearing Harmony Home was taking care of a lot of foreigners and illegal migrants, which made them "scared that it (Harmony Home) was trouble."
One community member complained to Taipei City Government. The government's social affairs department then declared it would come to Harmony Home to check the I.D. cards of all those within the facilities three times per day.
Nicole said that police only ended up coming in the mornings, but this still baffled shelter volunteers and confused the children. Eventually, Harmony Home jointly held a press conference outside Taipei City Hall with other human rights NGOs, after which the local government stopped hassling them.
The director was adamant to mention that this does not represent a relaxation of the government's pursuit and persecution of illegal migrants, however.
Much of the work the organization does at its healthcare center in Zhonghe District (中和區) is treating those injured in escape attempts. The center looks after people who have tried to run from police, and sometimes jumped from the third or fourth floor of a building, breaking their arms, legs and other body parts.
Nicole says many people in Taiwan harbor this conception of illegal migrants as "bad people," which is not the case in reality, as lots of them start out on legal working visas.
There is an emerging, worrying phenomenon of "runaway mothers", she discloses, who flee their employers after becoming pregnant. Taiwanese law states that it is illegal to fire foreign workers who are pregnant or have just given birth, but many of the labor brokers that hire workers from Southeast Asia tell them they will lose their jobs if they become pregnant.
Rather than the women themselves, it appears from what Nicole says that it is the employers often doing crooked work; underpaying migrants, lying to them, and destroying their documents when they run away so that their businesses are not fined. The migrants are left in a state of limbo, desperately trying to avoid lengthy stays in detention centers while they have new documents issued, Nicole says.
The director adds that the situation is only made worse by the reward system Taiwan has in place for citizens that report illegal immigrants, which encourages people to value money over compassion for those in need.
Harmony Home is not concerned with the status of the women it cares for, only that they have a safe environment to recover from injuries or give birth. The advent of the internet has meant the shelter continues to take on more and more new cases each month, although Nicole and her team are still happy to do so:
"At the beginning, women came from immigration, from the police station, or from the hospital. But now, they are sharing their experiences online, so we are getting more and more people to care for.
"In November, we had seven female migrants come to deliver babies. On Saturday, we had three pregnant women come in at the same time, with only around five minutes difference between them.
"If the illegal migrants want to go to work, they have to ask someone to care for their baby. Some will choose Harmony Home if they know us."
In addition to the copious amount of care work it does, Harmony Home also operates an education program on HIV/AIDS-related issues. The organization hosts classes for around 100,000 students in schools around Taiwan each year, which Nicole hopes can help prevent new HIV cases among young people.
The director hopes some of the things learned can be passed on to older generations too, in order to reduce the stigma that surrounds PLHA. HIV/AIDS is still widely misunderstood by the Taiwanese public, 50% of whom said they would be unwilling to live with a carrier of the virus in a 2014 poll.
In all the fields it works in, Harmony Home is looking to expand operations to meet the needs of the increasing number of people that need its help.
It hosts an orphanage in Kaohsiung, with assistance from a Dominican Catholic church, that cares for children living with HIV/AIDS, but only has the capacity to house 12 at a time. Harmony Home plans to build a new orphanage in the city to take care of more abandoned children, but needs NT$7 million to begin construction.
A lack of funds for operations in Pingtung County (屏東縣) means PLHA are being taken care of on a farm, which regularly faces challenges from the public as it has no license. With more funding, Harmony Home could move the patients to a more secure building and apply for a license to house them there.
Harmony Home's ventures are funded almost entirely by private donations. Taiwan's Centers for Disease Control supplies the organization with NT$2 million per year for looking after PLHA, Nicole says, but it needs at least NT$8-9 million per month to run all operations smoothly.
Contributions from the public are not just appreciated, but vital to keeping the organization afloat.
---
There are multiples ways citizens can help out:
Donate money
Monetary donations can be made via ATM, Taiwan Chunghwa Post, and a number of other transfer services. Click here to visit the donation page of the Harmony Home website (Chinese). U.S. and Hong Kong residents can click here to donate via Give2Asia. Bank details can also be found in English at the bottom of this page of the Harmony Home website.
Donate supplies
Harmony Home regularly requests donations of basic amenities including towels, pillows, children's toothbrushes and toothpaste, diapers, milk powder and wet tissue wipes. As the winter months are setting in, Harmony Home currently also requires blankets, quilts, hats and warm clothes for children aged 2 to 9.
Supplies can be dropped off at either of the follow locations between 9 a.m. and 6 p.m.:
No. 247, Section 3, Xinglong Road, Wenshan District, Taipei City 116, Taiwan (R.O.C.) (台北市文山區興隆路三段247號)

No.66, Chongde St., Xinyi Dist., Taipei City 110, Taiwan (R.O.C.) (台北市信義區崇德街 66 號)
Volunteer
Harmony Home needs volunteers to clean, and help feed, play with, and educate the children. Volunteer hours are every day between 8 a.m. and 6 p.m.
For more information, please visit the Harmony Home website.
Email: twhhf@twhhf.org
Telephone: +886-2-2738-9600